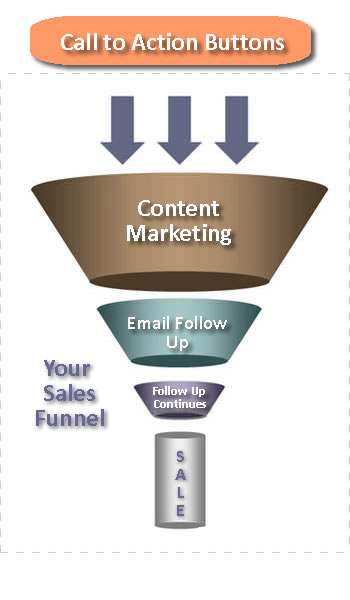 Increase Sales by Creating Sales Ready Prospects
There are ways to accelerate the sales cycle, read: "increase sales," using a little forethought and simple automation. Once implemented, you'll capitalize on more opportunities, nurture more leads, and keep your sales pipeline flowing smoothly.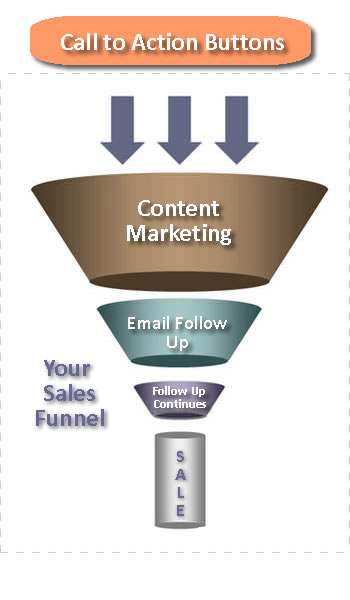 Here's a non-technical overview of the four foundational elements to creating sales ready prospects. 1) Prospect Personas 2) Call-To-Action Buttons 3) Content Marketing 4) Follow-up emails.
1. Prospect Persona Profile: Could you describe your best customer, or the profile of an ideal customer you would like to attract? However simple this step may appear, when asked, responses usually begin after a very long pause. If you're having a little trouble creating a profile of an ideal customer (past or future) start by finding a visual archetype of what he/she looks like. Consider Google images, LinkedIn, or your industry's trade magazines as sources for inspiration. Place this representative customer in a specific industry or company, and give him/her a name, title, job responsibilities, and a short list of motivations you think this position is incentivized by. Imagine the problems they may encounter on their job and specifically those obstacles that stand in the way of achieving their "carrot" – commissions, bonuses, stock, perks, awards, etc. Knowing who your prospect is at a granular level will help develop more effective call to action buttons and content that resonates.
2. Call-To-Action Button: If you had free billboard space on the highways your prospects use to drive to work, what message would you use to get their attention at 70 MPH? Call-to-action buttons are created with a "billboard" mindset to get a visitor's attention when on your website, blog, or other digital properties. To fit on a billboard, messages would be short, to the point, and focused on the solution to your prospect persona's most pressing problem. If your prospect was a person in charge of new business troubled by a dip in sales, a headline might be, "Dry Pipeline?" followed by a sub-headline or little descriptor, "3 Ways To Fill Your Sales Funnel Fast" …or something to that effect. In one eyeful, potential customers could see and identify with the pain and relief on your call to action button. The objective is to arrest their attention and motivate them to action.
3. Content Marketing: Once the Call-To-Action button is clicked, visitors would provide an email address (at the very least) and receive an answer to their problem with a valuable download of content from your company. Content could be in the form of an infographic, a two-page white paper, an industry checklist or the like. This content should look inviting, easy to scan, and end with another call to action to keep prospects moving through your sales funnel. Whatever you intend to share should be educational, informative and engaging – just as though you were in a face-to-face meeting with your prospect.
4. Follow-Up Emails: Potential customers who visit your site aren't always ready to buy. They may be evaluating their options and gathering information for a purchasing decision down the line. That's why before they leave your website, you want to initiate some connection and a means for future communication. As part of your content marketing efforts to nurture and develop the relationship, send emails on the same subject that initially caught your visitor's attention. With each email they read, potential customers become more educated, engaged and sales ready. At the very least, you remain top of mind, influencing the buyer's purchasing criteria or final decision.
The purchasing behaviors of B-B customers have changed with the internet to the advantage of both buyer and seller. So if you're still conducting business as usual, and not leveraging prospect personas, Call-To-Action Buttons, Content Marketing or Follow-Up Emails, you're probably missing opportunities to increase sales, connect with new customers, generate leads and create sales ready prospects.