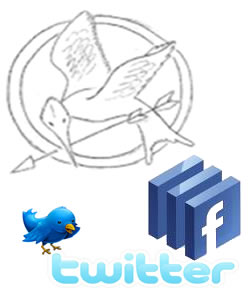 Secrets of Social Media Marketing from "The Hunger Games"
In a recent article from Fast Company, the discussion focused on how Social Internet Marketing plans for "The Hunger Games" were built to win at all costs.
The overall strategy for "The Hunger Games" Social Internet Marketing plan began with the acknowledgment that each campaign event would be assigned its own #hashtag. "Those really helped us trend because each one of those milestones had its own identity and helped it to spread so easily," says (Lionsgate's  senior vice president for digital marketing Danielle DePalma, who, at 29, has overseen innovative web campaigns for such films as Saw, Kick-Ass, and The Expendables."
 Focus on your Audience
It's no secret that the driving force behind the success of "The Hunger Games" film was the eager fan base, who had fallen in love with the books. DePalma and his team knew to take full advantage of the powerful viral marketing capability of Social Media Marketing, (SMM), the fan base would have to be the focus of all its promotional efforts.
Starting their Social Internet Marketing plan a year ago using Facebook and Twitter, DePalma noted "One of the things we did around that was to start Fan Fridays on Facebook, as a way to highlight all the great works they were doing. That allowed us to really start forming an emotional connection with fans, and it got them following us and then spreading the word for us. It was exciting because we knew that we could work with them and get them onboard to really help push the campaign."
The key to the success of this (and every other) Social Internet Marketing plan was regular and personal content and engagement. Lionsgate's team saw the power of letting the very involved fans drive the conversation, and just provide some hot topics and interactive high points to keep them coming back for more.
Work Each Social Internet Marketing Platform to its Strength
Facebook, Twitter, LinkedIn, and YouTube… are each social platforms that offer very specific and very unique forms of content sharing and engagement tools. The team at Lionsgate recognized the powerful capabilities that Facebook and Twitter offered for viral marketing of their Hunger Games promotional content, and worked each platform to its advantage. Facebook fans were able to build their own district badges and to register within a district using their www.TheCapital.pn website that was linked to Facebook.
Twitter offered the ability for followers to become district mayors or recruiters to build the fan base and expound engagement.
YouTube obviously became a natural extension of the video promos and pics of Capital fashion and oddities.
 Take Traditional Advertising and Make it a Social Internet Marketing Event
This is where Social Internet Marketing really shines for "The Hunger Games" campaign. The fact is, traditional advertising and promotions are still vital to any brand marketing plan, but by funneling them through the film's existing social media pages and profiles, "Lionsgate was able to turn advertising and public relations into the cornerstone of its social campaign."
'The release of each character's poster and each trailer became huge moments for them online, in part by driving people to Twitter from the posters. 'They created a ton of social buzz and got everyone really excited,' says DePalma. 'And within the first 24 hours of the trailer's release, it had 8 million views. 'I think Tim Palen described it best,' says DePalma of her boss. 'He said it was just the perfect storm where everything just aligned and really kind of had to feed off each other. So, I really don't think one over the other is more important. I really do think that they had to complement each other.'"
This is true for any advertising and PR campaign. When used in tandem with existing social media profiles, the content gets a viral capability that will seriously increase the ROI for any brand.
"The Hunger Games" made the very best use of Social Internet Marketing by following some proven and effective SMM processes, including those highlighted above. Building a detailed marketing strategy that included a social media element for viral capacity, along with regular and personalized engagement with its very invested fan base ensured that "The Hunger Games" and by proxy, Lionsgate media, won this battle. We'll see if they'll be "Catching Fire" by the next film's release.
Even if you aren't in the film-making business, lessons learned from the successful Social Internet Marketing Strategy for "The Hunger Games" could help drive interest in your company's next promotion or event. If you don't have the time, internal headcount, or expertise, partner with a company that could help make the most of your next campaign with a well-thought-out Social Internet Marketing plan.