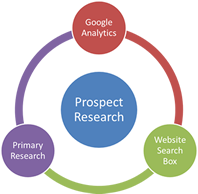 Three Important Prospect Research Tools to Develop Web Design that Increases Sales
Web design is a common but misunderstood term.  Often thought of as the "aesthetics" of a website, the scope of its definition exceeds one dimension and its meaning extends beyond a website's visual characteristics. Ultimately, the goal of web design is to increase sales, which makes web design a crux of any web marketing strategy.
Steve Jobs said, "Design is not just what it looks like and feels like. Design is how it works".  From Ivan Chermayeff's point of view, "To design is to solve human problems by identifying them and executing the best solution." Both of these statements are true when it comes to web design.
Building on these two concepts, it is our belief that website design is a cross-functional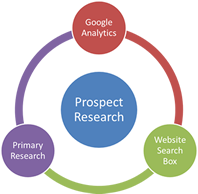 reference to a combination of interactions between design of content, navigation, interaction, technical and interface. If the goal of website design is to increase sales, each of these factors needs to align with one another from a user's perspective to be effective.  A website's users, their goals, motivations and behaviors must be the primary focus of web design, drivers for decisions about the website throughout the process.
Sources for user-centric intelligence are found in many channels, both on and off your website.  Once this prospect research is gathered, findings from each channel could be triangulated for applicable insight on your potential customers to develop a web design strategy that will speak to your target market and increase sales.
When you begin your prospect research, it's important to separate facts from assumptions so you come to fully understand your website users' needs.  Following are three tools you can use for prospect research:
Website Search Box:  Whether you sell things on your e-commerce website or your company's services on a static website, an internal search box is a great way to collect intelligence on potential customers that use it.  When studied in aggregate, trends and patterns will emerge to help you identify potential problems with site navigation or content as well as identifying opportunities you might have otherwise overlooked.  If you don't already have a website search box, one could be retrofitted at a very reasonable fee.
Google Analytics:  Google Analytics is free and powerful.  From this prospect research tool, you determine where potential customers come from, the path they take once on your site, how they behave on each page, and which elements attract their attention.  There is a plethora of data you could mine from Google Analytics, so take advantage of whatever variables that will help you increase sales.
Primary Research:  Identify your best customers and ask a small number a few in-depth questions about their needs or send a short online survey to a greater number of users, or both.  Many online survey systems are free. The trick is asking the right questions, the right way, in the right order.  Your website search box, previous buyer behavior and Google Analytics reporting can all help you identify what and how to survey your prospects.
Prospect research is the key to effective, sales-oriented web design. By combining the above tools into a strategic research tactic, your business has the best chance of understanding your potential customers before you begin your web design project. This not only results in a website that offers a better user experience and results, but in a lower web development cost due to less reworking, tweaking or recreation of developed site pieces along the way.