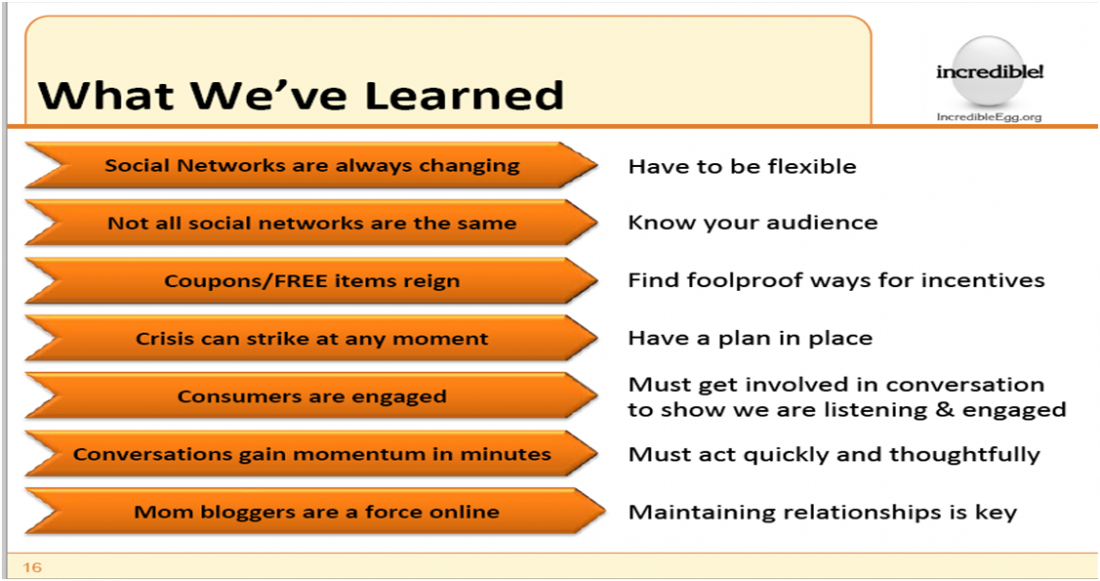 Business and Social Media Case Study: The American Egg Board (www.IncredibleEgg.org)
At a recent symposium in sunny California, we had the pleasure of speaking about Social Media Marketing (SMM). Kevin Burkum, Senior Vice-President of Marketing from the American Egg Board, presented as one of the panelists on his experience and outcomes using SMM. The Board has been utilizing SMM tools to promote their "incredible edible egg" campaign to target US based moms. The marketing plan has been a rousing success for the egg industry, and this case study will outline the strategy, implementation and results of their social media efforts. Kevin's approach is worth noting and applicable across all industries.
Find Where the Target Market Lives Online
Targeting mom's across the US who drive the grocery shopping in most households, the American Egg Board proceeded to locate the sites that mom's would most often use in the social media sphere. Their research showed that America's 1.4+ million moms were most likely to use the following sites:
Creating brand-driven profiles for these sites to supplement their Incredible Edible Egg website was the first step in their SMM push.
Engagement Strategy
Facebook
The goal on Facebook was to engage their target market with recipes, tips and facts about eggs and their applications. Responses to comments or questions made by any of the pages 84,956 FANS are made promptly.
Twitter
Tweets are made multiple times a day to reach out to the sites followers, noting recipes, uses and quirky links that relate to eggs. As with Facebook, comments or direct communications with the profile are responded to in a timely manner, keeping with the fast-paced timeline that Twitter provides its users.
Flickr
Recipes coupled with tantalizing photos are the driving content for the American Egg Board's Flickr account goals.
Blogs
For their blog outreach, the Incredible Edible Egg has employed the assistance of almost 70 "Mom-bloggers" to write posts about the benefits and uses of eggs in a daily diet. With more than 180 posts since January 2010, the conversation topics have covered recipes, farm tours, cooking education, coupons, cholesterol education and egg-related events like Easter or World Egg Day. The response has been strong and growing.
Logistics
The American Egg Board included a crisis and tracking aspects to their Social Media Marketing campaign to ensure usage policies in case of crisis response requirements as well as monitoring tools to gauge recent and ongoing quality and quantity of their reaction to the campaign.
What Was Learned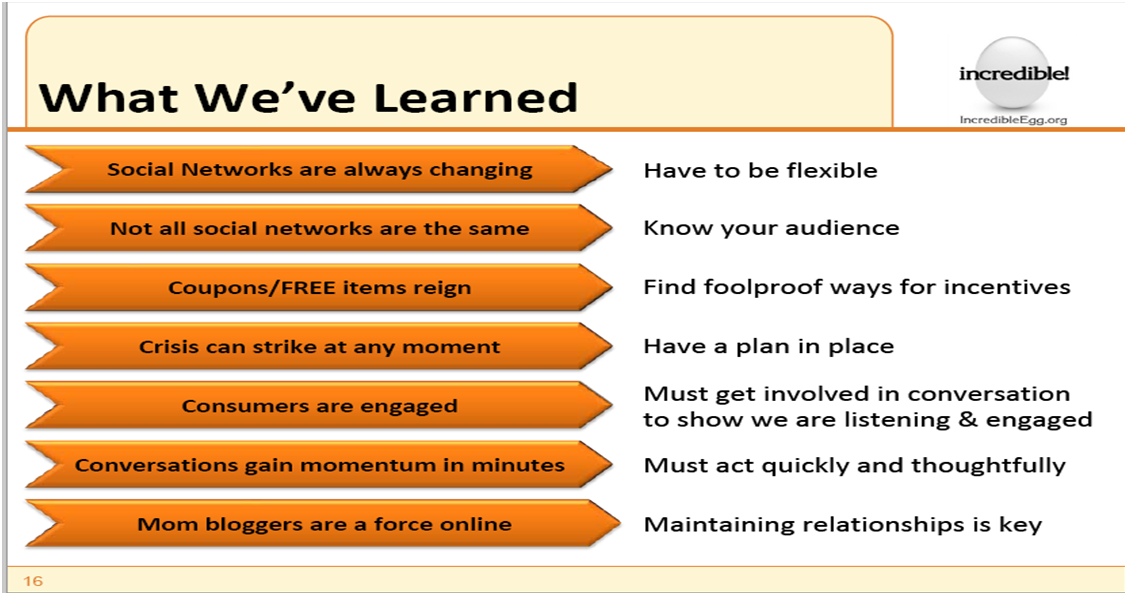 As they noted in their self assessment, the need to focus on the relationships that are built within the SMM plan is the key aspect to any social media success. It's not about how many fans you have or if you have the most followers; it's about the give and take between a brand and its target market that will result in long-term brand building for any company.