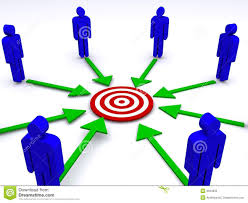 The Tiered Strategy of Team Communication
During an extended team project, like web development, "even the best-laid plans of mice and men can go awry" due to group dynamics.  It's as challenging when you know people on the team as when you don't.  When we know individual members, it's easy to work on autopilot and make assumptions based on our past experiences with them. With new members, it sometimes takes a while to get into alignment with them.  If you see the world from a different perspective as they do, you have to "learn their language," translate their terminology, intent, and style of communication. Considering all these potential obstacles on the path to clear communication, it's easy to see how projects can go awry or derail if these diversions are not proactively and immediately addressed.
Criteria that can derail the Best Laid Communication Plan
There are a number of interrelated variables that could affect the success of your initiative; being aware of them increases the probability of great results.  At a minimum, consider workarounds to these critical, but often overlooked obstacles.
Communication Medium: Email? Text? Phone call? Face-to-face? Some people favor one form over another. Be mindful of people's level of responsiveness and preferences by medium and vary your communication methods accordingly.
Tone: No matter how skilled or professional your team, a long project can take a toll on nerves and adversely impact results. Because tone follows attitude, recognize the connection and modulate your attitude so your tone doesn't amplify what should be internally squelched.
Focus: During a web development project, the best-case scenario would have one point person to aggregate, document, and distribute information. Having a centralized focus helps avoid potential pitfalls and identifies a greater number of alternatives that would not have been seen in a piece-meal fashion or with less complete information.
Controls: What checkpoints are in place that acts as quality controls or early alerts within your team? Follow-up practices? Reminders? Ceiling the gaps is crucial to ensuring messages don't get let lost between the cracks and are received, understood, and properly applied.
How to Develop and Nurture an Effective Communication Strategy for your Teams
Developing and nurturing a shared set of expectations is essential to making the most of everyone's efforts and avoiding preventable setbacks.
To this end, it's necessary to explicitly state objectives at the start of an engagement and provide reminders (coachable moments) along the way. The goal is not to constrain or limit the group, but to define the outer parameters of your focus before efforts become off strategy and counterproductive.   Each member should understand the end goal and the role they play in achieving the defined success result.
While most people appreciate the importance of communications in group interactions, the variables noted above illustrate how one person's understanding could be confused by another. To ensure problems don't have enough time to germinate, it is important to incorporate checkpoint meetings into the process.  A regularly scheduled call to touch base with all team members regarding work-in-process and upcoming next steps could dissolve issues before they take root.
If your team knows what is expected of them from the beginning of web development or other projects, and checkpoints are put into place to waylay any confusion or stopgaps, the potential success of your project and its goals increase exponentially.