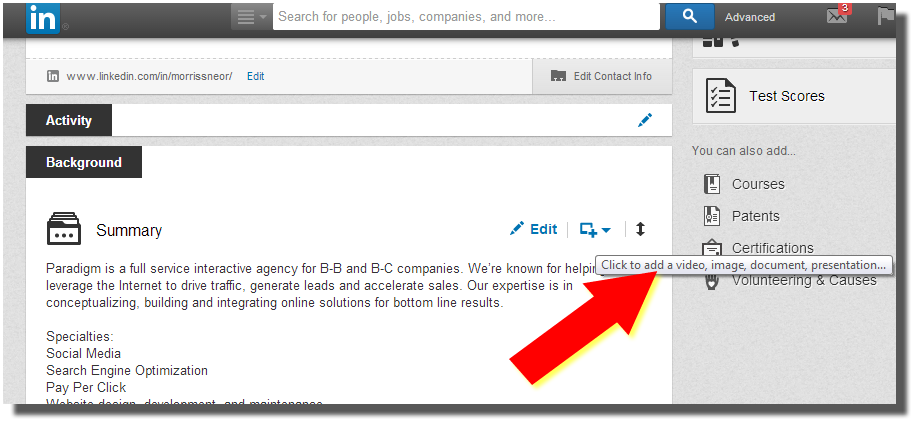 Where to Post Content On LinkedIn
Many people abandon LinkedIn after completing their profile and only refresh their content when changing titles or companies. The lack of activity by some is because they probably aren't aware of places, and reasons, to add fresh content. Continually posting fresh content is crucial to expanding your network on LinkedIn because it gives you an opportunity to target different segments of potential customers with germane insight; increase your visibility by appearing on a potential customer's screen and demonstrate your expertise while expressing a fresh point of view to develop your brand.
Before we review "where" you need to share content on LinkedIn, it's important to understand what types of content you could use to promote your business, your culture, and your specific point of view.
Types of Content
Upload documents (reports, whitepapers, press releases or articles), images (infographics), videos, presentations or share links (like one to your company blog) to develop relationships on LinkedIn. Be sure to think about what type of content would be most effective for which segment of your network before distributing it.
Four Key Areas of Distribution
Here are four key areas to share your content for lead generation.
Personal Profile – The new LinkedIn profile settings allow for content to be shared in multiple segments of the page including the summary section, your background and education.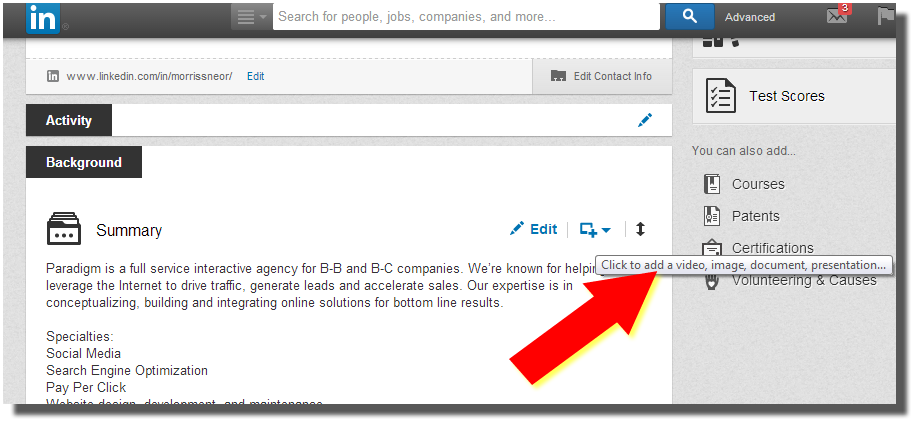 Tip: Share your blog link in your summary section, under "Background". If you have other content that would be of interest to your target market for business development purposes, the summary is the best area to share it.
Company Page – Your LinkedIn company page is your brand's microsite within the platform. As such, points made on it should be consistent with your personal profile page, and accurately represent your brand and positioning to clarify "who your company is" to visitors.
Tip: Share links of recent blog updates to drive visitors back to your website, and further educate them about your brand.
Status Updates –Your profile status updates allow for both links and attachments to be shared with all your connections. It's important to keep increasing your connections to get the real benefit of this type of content share to get in front of a larger target audience. You have the option to tweet your status update, as well as to share with all of LinkedIn or just your connections, depending on your business development strategy.
Groups – Your selected groups allow you to reach out to site members in certain geographies or industries that you know are interested in the topics you present. As part of your marketing process, you should segment your groups based on the types of content you intend to share, and share consistently with those audiences. For example, if you are posting about a regional issue, only share with groups relative to that region.
Be sure to keep in mind that when sharing content in a LinkedIn group, there are a few guidelines to increase your success rate of obtaining good leads:
Do not promote your brand in your content. This is not an advertising medium, but a place to start educated discussions on topics that resonate with your fellow group members.
Start discussions without links. For example, "What do you think about the free Google Keyword Tool being replaced with the subscriber-only 'Google Keyword Planner'?" Look for the feedback from members and let the conversation work to generate leads.
Be timely in responses to comments to your posts, and thorough in your answers. These conversations are seen by any group member that wishes to review it, and can be telling about your business style.
Tip: Be sure to follow the discussion your start so you receive emailed notifications of comments and replies.
The effectiveness of your LinkedIn marketing process is influenced by the content quality and the precision of its distribution to the right segments of your network. The greatest value from being "LinkedIn" will come from what you do with your content after you complete your profile.