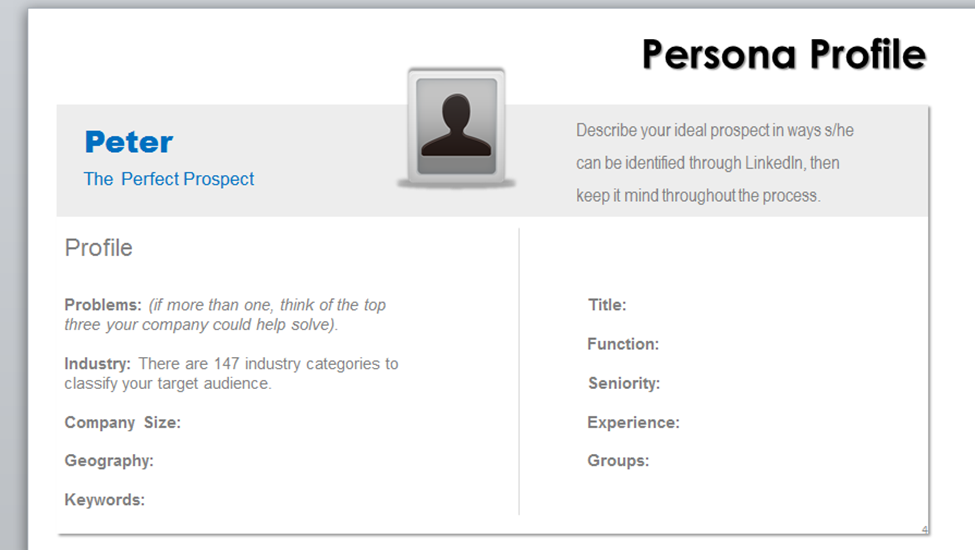 7 Direct Ways to Find Potential Customers on LinkedIn
As part of a strategic marketing plan, LinkedIn offers a highly-sophisticated channel to reach prospects, both directly and indirectly. Unfortunately, due to a simple lack of knowledge, the site is often underutilized for business development.
There's more than One Way To …
LinkedIn offers a multitude of ways to connect with potential prospects, to familiarize them with your brand and lead them down the sales funnel. The key for successful business development is to understand how you can locate and connect with prospects.
Options for both direct connection and indirect outreach exist all through the site. The direct path is simpler, but still takes some finesse to work effectively. (Check back for our next post when we'll review the indirect search strategy for locating prospects on LinkedIn).
Who Is Your Prospect?
You'll find the shortest path to success if you start by clearly defining your prospect. The graphic below shows the minimum criteria you need to consider when deciding who to target. Once you flesh out the persona of your "perfect prospect" you're ready to begin a direct search for LinkedIn members that fit your target profile.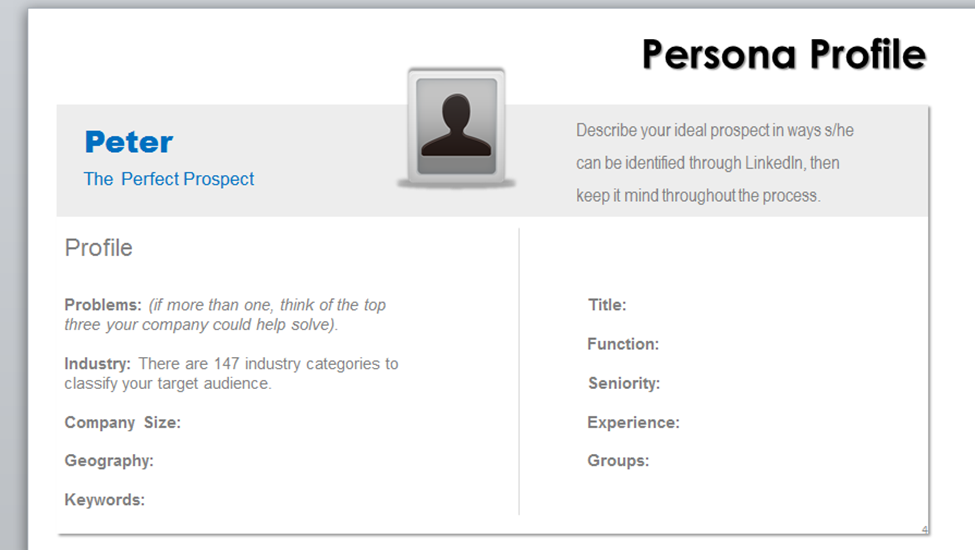 How to Search Directly for New Prospects
1. Search Box – The option at the top right of your LinkedIn page is the most general form of searching for anything on LinkedIn, and provides the broadest results. When looking for potential customers, the free Advanced Search option is a better alternative.
2. Advanced Search– Using the advanced search tool allows you to do a very strategic search for prospects using a multitude of criteria that work together for specific prospect lists. Through advanced search you have the option to search for prospects by name, title (current or past), company, location (around a zip code if needed), relationship (like a current connection or fellow group member) industry, function, company size, years of experience in their industry and even by their school history. Also within the advanced search function, you have the ability to use keywords to search based on types of products/services you sell, common problems encountered, a person's role, responsibilities, and company or industry descriptions that go beyond standard LinkedIn variables. To harness the power of LinkedIn's search functionality, use the keyword to "refine" or segment your initial prospect list. If you're looking for the highest level of precision, LinkedIn has the capabilities to execute Boolean searches (a combination of keywords with operators such as AND, NOT and OR).
TIP: Read the profiles of current customers on LinkedIn as well as any specific prospects you find to identify commonalities, patterns, etc. and confirm the search criteria used are complete and accurate.
3. Groups – Your groups on LinkedIn house site members with whom you share interests in an industry, geographic location, or subject matter. You have the ability to start, join or watch discussions happen within the group, which gives you great insight into the site members and their perspectives. Use your group analysis to search for potential prospects, with your group relationship and observations as the reason to develop a connection.
4. Locate "Similar" Members – On the results listing page, find similar prospects by clicking on the "Similar" option at the end of a potential customer's description. LinkedIn will draw on your first, second and shared group connections to deliver a list of similar profiles based on the profile keywords.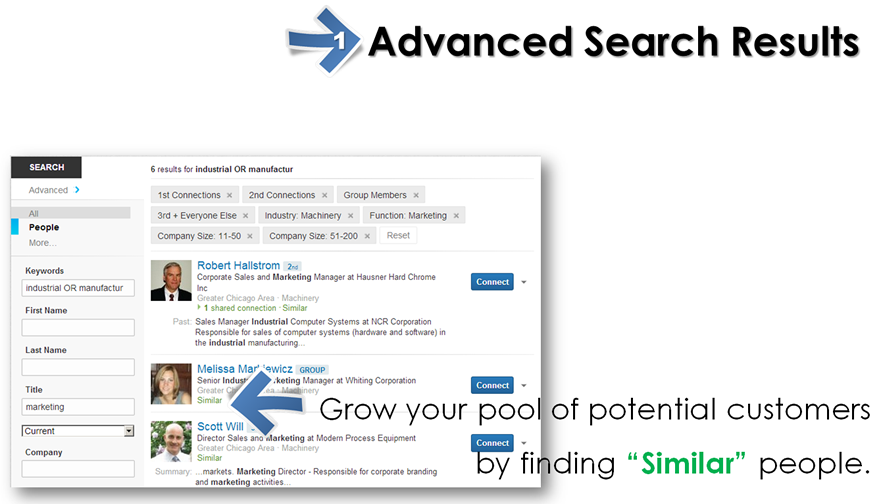 5. When No Connection Exists– InMail allows you to directly message anyone on the site. Depending on your profile type, you get a set amount of InMails to send within a specified time period, so use them wisely.
Before you reach out to a LinkedIn member via InMail, be sure they're your "perfect prospect" and that you have something actionable to share with them. Research their interests, their goals on LinkedIn, (both can usually be found in their profile), and see if you can read any of their recent comments or discussion points from related groups.
Craft your message to introduce yourself and give them a reason to connect with you.
6. Contact Information – LinkedIn profiles offer a section for external contact information, like company website, blog, phone number, social media pages or profiles or even the company address. Each of the contact details offer new avenues to reach out to a prospect. Again, use this information with caution. Emailing a contact blindly can result in your email address being blocked and diminishes your chances of making them a client.
7. Out In the Real World – As we noted before, you travel a path in your career which leads to face to face connections. When you meet a prospect at a trade show, speaking engagement or networking event, let them know that you'd like to connect with them on LinkedIn then follow up shortly thereafter on the site.
To enter a new connection to LinkedIn, go to Connections in the main navigation, and click on the drop down menu "Add Connections." From the landing page, click on "any email", then at the bottom of the page select "Invite by individual email". Key in your real world connection email and send the invitation to connect on LinkedIn.
Are you utilizing LinkedIn as a strategic business development tool? If you are missing any of the seven prospect search points above, then the answer is probably no. Take the time to put this powerful, efficient and effective prospecting tool to work for your business. If you need a little direction, connect with a professional partner that can help you navigate the "how to use LinkedIn" waters to business development success.