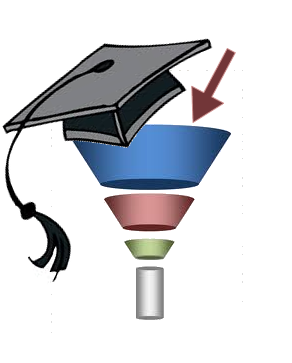 Advanced Internet Marketing Blends Inbound Leads &Traditional Efforts
Instituting an inbound strategy can have a profound impact on the quantity and quality of your inbound leads. With this in mind, there are advanced internet marketing technique often overlooked in the lead generation process that should become a staple process because of its effectiveness.
PPC and traditional (print) ads can be very effective for a variety of industries and target markets, but often times the goal of those ads is to sell something on the spot, not necessarily to initiate a relationship. You can elevate your effectiveness by implementing an advanced Internet marketing technique that combines your inbound strategy with your traditional advertising campaign, and set a few criteria in place.
Promotional messaging
Target market segmentation
Engaging and relative graphics
Conversion-focused landing page
Promotional Messaging
Your marketing strategy should already have an over-arching message, but when you integrate an advertised promotion, the message needs to convey the direct goal of that ad. So, before you create an image or select a single publication to submit your ad to, you need to define the specific goal of your effort. Do you want them to download a whitepaper? Contact your sales team? Register for an event or a webinar? Make a purchase?
This goal defines what you will track for a conversion, so be very specific when considering it.
Target Market Segmentation
After you establish the goal of your advanced internet marketing effort, that goal will help you segment the target market you are trying to reach with your ad.
Engaging and Relative Graphics
Once you know which market segment you intend to target, you are ready to begin building your ad. Remember, we are talking about increasing leads within a specific target market, so the images within the ad need to draw attention and engage that audience, quickly. Images of your products are not as effective as those that speak to the pain points of your target market. In other words, images that show them in a quandary that your brand can answer, or graphics that show the after-effect of your assistance. Images with people in them are recommended.
Conversion-Focused Landing Page
When you are driving someone to act based on an ad, whether it's print or online, there needs to be a place you drive them to clinch the potential of a conversion, whether that means a download, a registration or a sale. A landing page is a page on your website that exists for the sole purpose of gaining a conversion from an ad or offer. The content on the page needs to further explain why your site visitor needs to act on that ad, and how doing so will benefit them. Keep the page content focused on the "what's in it for them" in lieu of "why our offer is so great" and your success rates will increase.
A few key points on landing pages:
Make them "blind" pages on your site, that can only be accessed by a search for their direct url, not from website navigation. This will keep your page traffic analytics 100% accurate.
Include sidebars that offer other types of content that may also be of interest to the visitor, cross-sell them on related content or events.
Closely relate the page content only to the ad campaign that you built them for. That way you have an accurate view of the success of the campaign from beginning to end.
Integrating this advanced internet marketing concept will drive inbound leads, brand trust, and sales.