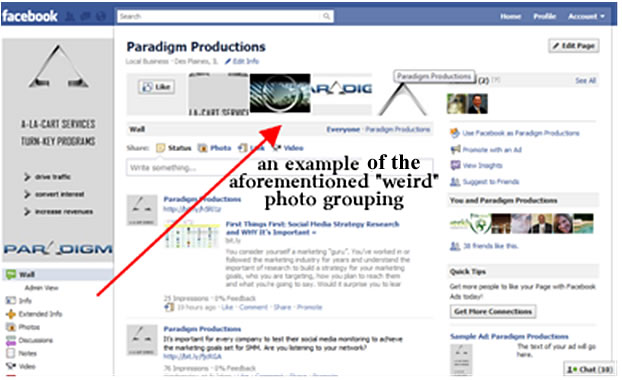 Business and Social Media: FAN Page Changes
As any business owner or site administrator with a Facebook FAN pages knows, there are some significant changes coming down the pike for the layout, development and functionality of Facebook FAN pages. While theses upgrades aren't optional, all pages will eventually have to move to the new options if they want to use them effectively for marketing purposes. The changes do pose some enhanced features increasing the marketing capabilities of the Facebook site.
Why Does My Page Look Weird? Layout Changes…
Logged into your Facebook FAN page lately and clicked the "upgrade your page now" button? Looks strange right? Well, there are some reasons that the visuals of your page have changed. Let's break it down bit by bit…
As noted by Facebook, the new layout allows you:
• To set defaults for your email notifications and how you post to your page – as yourself or your page. You can also select which featured pages appear in the left column.
• To manage your settings for email and posting preferences, go to Edit Page and Your Settings. To select which pages appear in Likes, go to Edit Page and Featured.
Okay, so why is this a good thing? FAN pages are now able to monitor news feeds from other pages, receive emails from other pages and receive notifications about FAN activity. Previously, only a profile was able to see these communications and interact with them. The FAN page is now able to stand alone to interact with other pages and Facebook users without the standard Profile Page as a portal. You can have a FAN page with no profile page – although I still wouldn't recommend a brand being just a brand in the VERY B to C Facebook realm yet. A face to go with the name, I think, will still be beneficial.
What about that Photo Grouping at the Top of My FAN Page?
Do you use graphics in your marketing? Recently attended or presented at an event? Have new products to show? The photo grouping at the top of the new Facebook layout gives companies the opportunity to show off their latest pics, right on the landing page of their FAN page. Only the page owner's photo's are shown here.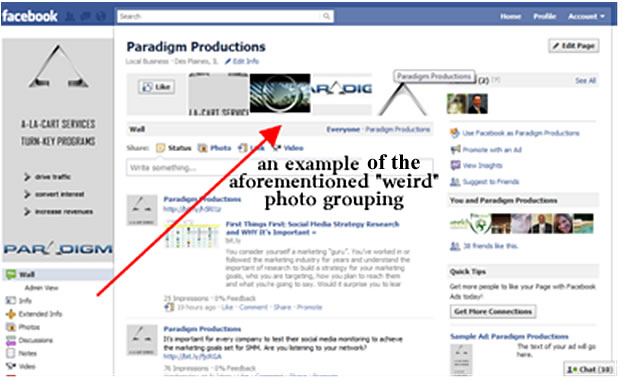 Where to Go on your Page?
The Navigation bar in the new Facebook FAN page layout is in the same place as on a Profile page, making it a universal location for page navigation and much easier to find.
Use All of Facebook as your Page
Per Facebook's notes on the subject:
Get notifications when fans interact with your page or posts
See activity from the pages you like in your news feed
Like other pages and feature them on your page
Make comments as your page on other pages
Again, the need for a profile for the above tasks has been made obsolete. This doesn't mean that your existing Facebook profile page will go away or be altered in any way, simply that you won't need to rely on it solely for interaction with other pages or Facebook users.
Goodbye FBML, Hello iFrame
Allowing for higher functionality, layour and graphics quality for Facebook FAN page landing pages, iFrames are the evolutionary step to the existing Facebook Markup Language (FBML) pages that have been in use for the last few years. While the FBML pages certainly served their purpose, the upgrade to iFrame code will allow for micro-website functionality, like click-thru graphics, e-commerce options and crisper, more defined graphics within a Facebook FAN page.
Overall, it's easy to see why Facebook made the changes to the FAN pages as noted. The use of Facebook by brands is increasing, and there was a real need to add to the functionality and interactivity of the FAN pages. With the new tools and options at the disposal of business owners and brands utilizing a Facebook FAN page as part of their Social Media Marketing plan, the potential for marketing success only increases.