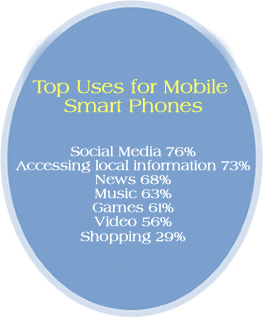 Employ this Mobile Marketing Program Now
1.08 billion smartphones around the world.
Globally, 3.08 billion phones are SMS enabled.
71 percent of smartphone users that see TV, press or online ad, do a mobile search for more information.
*Statistics from Socialnomics. See the whole article here.
At the park, in the office and on the train, people are using their cell phones for everything from banking, bill pay, shopping, games, tweeting and of course, updating their Facebook status.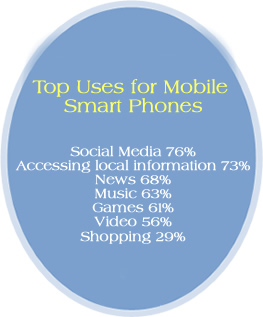 With this in mind, it seems a little underwhelming to state that brands need to be mobile. The truth is, the largest brands already are, and those smaller brands on the fence need to take the leap now, before they lose out on a few hundred million prospects.
The question that brands need to ask is HOW to reach out effectively to their mobile target market. Here are a few more stats to understand this increasingly mobile audience a little better:
It is these top uses for smart phones by the global market that can best guide brands to the path they need to take to utilize mobile marketing to the best interests for their brand. For example, if your target market is interested in music, then perhaps investing in a mobile marketing campaign on Pandora Internet Radio would be a great place to start.
Once you know that you want to take your brand mobile, your mobile campaign needs to be optimized to garner the best results. Your mobile marketing plan needs to have a well-honed focus, with your target market and brand goals in mind.
Mobilize your Website
There are several steps you need to take to mobile optimize your website.
Localize your mobile landing page by adding local site names to your web META tags, like keywords and page description. For example, if your website description is "Web Marketing Services", then change your description to "Web Marketing Services Chicago" to garner more attention from mobile users in the Chicagoland area.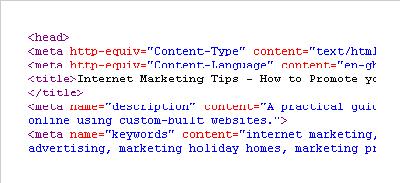 Optimize your graphics and text for mobile viewing. Keep all page widths and content within 600 px, and be sure graphics don't take over the page or detract from the text. Mobile users are on-the-go, decreasing the already fickle 15 second window most web pages have to make an impression with site visitors.
Increase focus on any interactive components. Mobile users are looking for an experience when they visit your site.
o Click to call or email
o Click to Maps and Directions
o Click to Video or Downloads
o Click to Social Media content sharing
Get your brand on the go and get your piece of the 1.08 billion member pie of smart phone users.