Is your Website Mobile? Why you need a Mobile Marketing Program.
Hundreds of customers across the country camped out for the new Droid X last month and Motorola has shipped 2.3 million of the smart phones in this past quarter alone. Over 20 million Sprint phones have been sold throughout the US. Verizon signed up 665,000 new wireless customers during the last three months, while AT&T signed up 496,000.
What do all of these facts have in common? They are indisputable proof that cell phone usage continues to increase, meaning that businesses need to be in position to take advantage of the mobile marketing opportunity cell phones offer to their potential client base.
Keeping this in mind, businesses need to understand the importance of maximizing the value of visitors seeing them through their cell phones. Unless their Website is optimized for the phone, functionality is limited; user experience is compromised leading to dissatisfaction on frustration.
Is your Target Market Mobile?
As of January 2010, statistics show that the concentration of wireless broadband users or web-ready cell phone users throughout the US is broken down to the following demographics: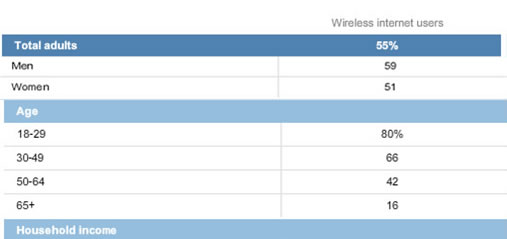 So, if you company's target market falls into the range of college – middle aged men or women in the United States, chances are they have a web ready phone that they're using to browse the web. That being said, if your business website isn't designed to show up on the small screens your target market are viewing from their phones, then you're missing out on significant marketing potential.
Points to Consider for a Cell-Ready Website
Site Navigation – Navigation buttons or links behave differently when accessed from a cell phone and the page layout and design needs to be simplified to offer a clean and easy to navigate for mobile users.
Content Questions – Content needs to be direct and immediately engaging – a mobile user needs to find what they need from your site immediately. Consider it this way – the on-the-go web visitor is obviously in a hurry and there's no 411 for your mobile website to help a visitor find the info they require in a pinch. Be sure they can find what they need before they bounce away from your site.
Bottom Line Facts about Mobile Websites
When designing a website for the mobile market, there are a plethora of minor and major details that have to be considered to allow for optimum viewing, navigation and conversions. It is literally a micro-world where site errors are accentuated and navigation difficulties can mean no ROI. Therefore, approaching mobile website development requires a unique skill set to create a website that will succeed with your mobile market.