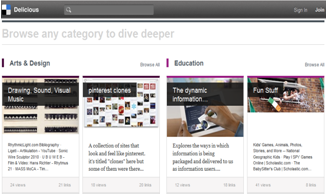 Find the Most Searched Terms for your Online Marketing
If you use B2B blog posts or articles as part of your content marketing plan, then chances are you use, or have at least heard of, Social Book Marking. Sites like Digg and Delicious have been around for years, giving internet marketing companies the resources they need to get a little more mileage out of their online content push.
Keeping the above in mind, there is an extended and often overlooked resource available to any business that includes social book marketing sites in their content marketing strategy. When B2B blog content is shared on any of these sites, keywords are requested as part of the registration process that helps each site directory categorize each post to reach the proper target market.
Any company that has some history with content marketing understands that the right keywords in B2B blog posts and articles can mean the difference between regular readership that drives traffic to your website and online content wasting away on the web. Here's how Delicious and Digg can be used to see what your target market is talking about so you can use the hottest keywords to join the conversation.
Delicious Keyword Gauge
Like the site name, Delicious is a tasty resource for your content marketing shares. If you want to know what the most popular keywords are on this site, start by selecting a topic to research using the category directory at the bottom of the home page.
We checked out the Tech & Science category to do research on the viability of the keyword "web design". We then selected the option of "Web Design" as a subcategory and did a search for the keyword to see how many people in that group were talking about it… We found 853 saved topics using this keyword. Looks like the place to be for a web design B2B post to get some traction.
Digg for Keyword Research
Want to see who's talking about web marketing on Digg? Go to the home page, and search for "Web Marketing". We did this and came up with 129,300 results. Sound like a viable keyword? Take it a step further…
Refine your search using the "Best Match" drop-down list, and see what's "Most Dugg" by the site users. Looking for the "most dug" web marketing content for businesses? Refine even further using the right side menu bottom "Topic" option, and select business.
Our search for the above criteria results in more than 59,000 articles or posts. Web Marketing definitely meets the effective keyword test for Digg.
Keywords are a vital component of your online content marketing plan. To make each B2B blog post or article work for your business as a lead generator, you need to be sure that the topics you're discussing are going to be found by the search engines. Use Digg and Delicious to do a little extended recon on your keyword choice and get your content found.
Remember, if you don't have the time or the staff to add another research option to your online marketing plan, it may be time to call an experienced online marketing consultant who can manage the content marketing aspect of your web marketing plan.