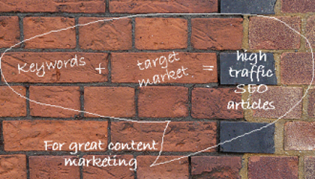 Content Marketing:How to Build Traffic with High Quality SEO Articles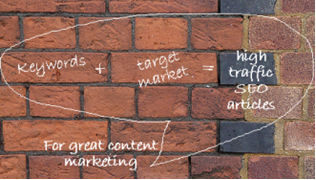 As the landing pages for your content marketing, your website is the hub of your online marketing efforts. As such, it needs to rank as high in organic web search, meaning website's page rank based on keyword search, as possible. Content marketing offers a marketing tool that is multifaceted in its benefits, the most powerful of which is traffic building for your website.
Specific Benefits of Content Marketing
Now, we note that content marketing has a multitude of benefits for your online marketing efforts. What are they, you ask?
Build brand awareness online with high quality online content.
Drive leads to your website by including powerful long-tail keyword phrases (offhand do you know if we have any references to the long-tail in other blogs that we could link to)? in your content marketing efforts.
Increase organic rank of your website with back linking. (seems like it is rambling)Increase conversion rate by building trust with educational and engaging content marketing.
How to Build High Quality SEO Articles
When a business owner considers how to build traffic to their website, it's an easy answer to say "build more content". However, it can be difficult to know the steps to follow when implementing content marketing made up of high quality SEO articles. Here are three steps you can't miss:
1. Keyword Research
Before you write a single line of test for your content marketing plan, due diligence in the form of keyword research is necessary. How do you decide what keywords to focus on to get the best results from your content marketing? Once you make up a master list of potential keywords, consider the following points:
Who is your target market? In other words, who do you plan to educate, inform or draw attention from?
Do you have a geographic target within your market? Is your company local, national or global in its service offerings?
What keywords are your competitors focusing on? Do some research on your competitors website rank based on potential keywords and see those they rank for on the first page in the search engines.
Once you do the research listed above, take the resulting list of keywords and submit them to a keyword tool. Keyword tools will run your list of keywords and assess their monthly search volume, (How many times they are used in search each month) and the difficulty ratio in ranking for them based on how many other people are focusing on them for SEO purposes. Two such keyword tools are:
2. Timeliness in Content Marketing
Set up Google alerts based on your industry and keywords that will help you keep your finger on the pulse of headlines, industry trends and latest news. By keeping your content marketing current, you get to piggyback on the hottest news in your industry to build your high quality SEO articles.
3. Share and Share Alike:
Now that you have your keywords and news sources, consider where you plan to share your content. To get the most from your content marketing efforts, you can repurpose your content in many forms over an extended amount of time, including:
Take focal points of your content and create 140 character tweets with links to your posts and articles.
Use article and post titles, images or engaging lines of content as Facebook posts.
By following the points above in your content marketing efforts, your website will reap the benefits of higher search engine rank, and your brand will see growth in its lead and conversion rates. So, are you ready to get started?