Blog Design Tips for Mobile
With every new release of increasingly powerful and web-ready smart phones, companies that use a blog to reach their target market have to consider the blog functionality for mobile access. There is no ignoring the need for a mobile-ready blog for both brand building and trust-building purposes within any company's target market. The following four points will help redesign your blog for the best mobile access possible.
1. Simplify the blog layout by removing selectable categories and bylines. Excessive text will make the page hard to navigate on the smaller smart phone screen and drop-down category menus would translate too small for anyone to hit reliably. Keep the content confined to a high-quality headline and keyword-rich, timely and engaging posts.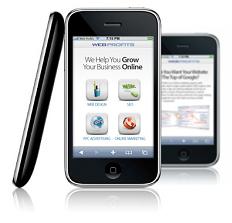 2. Increase linked graphics sizes like header buttons and those in the page so mobile users can get where they want to go easily. Site navigation ease can increase conversion rates, so be sure to consider it when mobilizing your blog site.
3. Use full headlines, in lieu of shortened headlines. When someone comes to your blog, the biggest driver for click thru's to your website is getting them to read the content. An engaging and detailed headline is vital to that process. Tip: add a short, one-line summary to increase readership.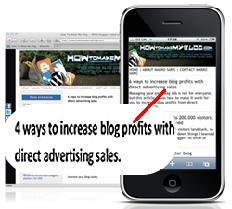 4. Use graphic links and not text for your sidebar when possible. In other words, if you have links to your website, Social Media sites or tweets, use graphic links to allow easier touch-screen access for your mobile readers to access your other online sites and pages.
These top points will increase your mobile blog readership and in turn help with enhancing your mobile brand awareness and conversion rates.