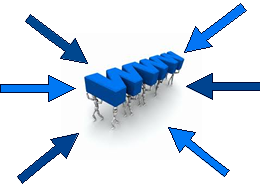 Link Building Service Secrets:Ring In 2013 with More(Targeted)Traffic
Have you ever looked into link building services for your website? As we say goodbye to 2012, many business owners are seeking better ways to drive targeted traffic to their websites. When integrated with other inbound marketing efforts, link building services effectively drive keyword-oriented traffic back to your website.  Before we recommend a few approaches to you, let's simplify the "HOW" of link building service.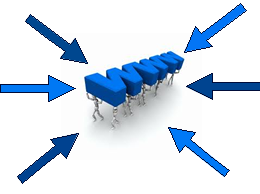 Think of your website as a destination, like a place your prospects want to find but don't know about yet. They begin to search online using a certain phrase, known in the SEO world as "keywords". Their search efforts bring up a list of websites that are most easily located by those keywords.
The goal of link building services is to get your website seen by prospective customers using phrases they would naturally search by to find what they are looking for.
Consider if you are an SEO company located in the Chicago area and wanted to boost your local SEO using the keyword phrase "search engine optimization Chicago", you would submit your website URL to directories of websites like http://www.yellowpages.com/ or publish content to sites like smartblogs.com using that keyword phrase to create backlinks.
Some points to look for in the most effective backlink services include:
Free Trial: Look for free trials so you can test optional backlink sites. Many offer 10 free links to show the viability of their services.
High Quality Links: Be sure that the links you get from your selected link building service are permanent links to high quality (industry-oriented and higher traffic) sites.
Monthly Contract Option: Be sure you have the option to sign up for services a month at a time and don't have to sign on for a yearly contract. Like any marketing tool, it's necessary to give it time to assess the ROI, but if link building services don't prove effective for your SEO, you should be able to move on to other options.
So, as you look to the New Year and your website rank based on the keywords your prospects are using to search online, consider the inclusion or emphasis of link building as part of your inbound marketing mix.