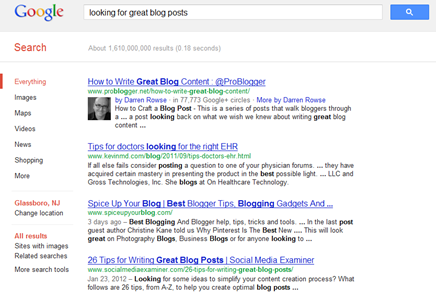 Blog SEO Techniques
Writing blog posts that no one can find to read is sort of like being the tree that falls in the forest with no one around: No one hears what you're saying.
So, what steps can you take to be sure that what you write in each of your blog posts is read by your audience?
Submit your Blog URL
Especially if your blog is new, it can be difficult for search engines to locate your blog page based on the content along. To increase the chances for search engines to crawl your blog site, manually submit your blog URL to the major search engines like Google, Bing, and Yahoo. Do not use submission services as most of the major search engines, including Google, can penalize you for using non-human submission processes.
Tip: Search "submit my site to SEARCH ENGINE NAME "to see how to manually submit to each search engine.
Don't forget to submit your blog to DMOZ and the Yahoo Directory in your niche for a boost to your blog page rank.
Concentrate on your Blog Keywords
… in your post content as well as your title and META tags for each and every blog post. Be sure that your keywords relate to the topic of your blog post, and that they are used sufficiently throughout your post content. The general rule of thumb for keyword concentration is between 2-4% of the article length. For example, if you have a 200-word blog post, your keyword concentration should be between 4 and 8 keywords.
Tip: Be sure to include your keywords in your blog post title and at least twice in your opening paragraph to get the best blog page rank per blog.
Keep your Blog Content Unique
Your business isn't the carbon copy of any other company, is it? Well, neither should your blog content be. Originality in content goes a long way with your readers, and even more so with search engines. Duplicate content is largely ignored when search engines crawl sites[A1] [TC2], so be sure your blog posts include your perspective and unique ideas no matter the topic.
Syndicate your Blog
Syndication allows RSS, Really Simple Syndication, enable your blog to be found by search engines and readers alike.
Feedburner offers the simplest (and FREE) option to syndicate your blog and improve page rank.
Monitor your Blog's PageRank
Google PageRank track's site rank based on Google's current algorithm. While PageRank is not a be all end all source to determine your blog's popularity, it is a good idea to monitor your PageRank as you make changes to your blog and its content to be sure the PageRank increases with your changes.
Check your blog site's Google PageRank here.
You know that your business blog is a powerful marketing tool. Ensuring that its page rank is effectively being picked up by search engines means that your content is reaching the largest portion of your target market as possible, with each and every blog post.
The steps above can be a great start to get the most out of your business blog, but the effort has to be consistent to gain real results. If you find it difficult to take the time to optimize your business blog for the betterment of your brand, it may be time to reach out to a marketing consultant who can offer staff and skills to boost your business blog to the top of the search engines and keep it there.