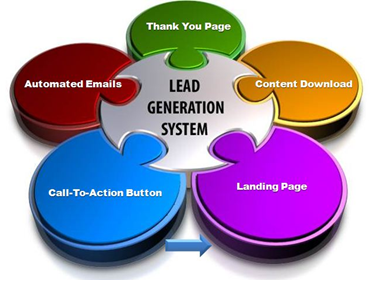 Comparing Website Ideas? Remember, the Goal is Internet Leads.
Take a minute from considering website ideas in your marketing meetings to remember the purpose of building a website in the first place. While it's nice to lay out verbiage about "increasing internet presence" and "building the online brand", what was the real reason you wanted to take your company to the web?
Internet leads.
A website is the hub of your online marketing efforts, and as such, it needs to be the hub for your internet sales efforts. Therefore, while you are building the list of criteria for your website ideas, you need to keep your eye on the prize, the ultimate goal of your website.
Internet leads, when handled properly, become internet –oriented sales. Your website ideas have to hone in on the criteria and design aspects that will drive and nurture internet leads. For example:
Call-to-Action (CTA) Buttons that attracts attention with a valuable offer
Landing Pages and form to capture a visitor's contact information and
Automated emails that nurture leads and keep them warm
It's all about those internet leads. If the website ideas cropping up in your web marketing meetings are not focusing on the aspects of your website that will drive leads, and ultimately sales, then what is the purpose of pumping time, effort and funds into your "online presence"?
Often times, discussions around website ideas can become bogged down in details like color scheme, graphic usage and keywords. All vital aspects to any website for sure, but be cautious not to become lost in the spin-off discussions that focus on these points. Remember, the purpose of your website is to drive internet leads. Each element needs to be considered a part of this overall goal.
If you'd like a little assistance managing the discussion about your website ideas to ensure that the focus stays on driving and nurturing your internet leads into sales, consider marketing collaboration with an internet marketing agency experienced with lead generation tactics.